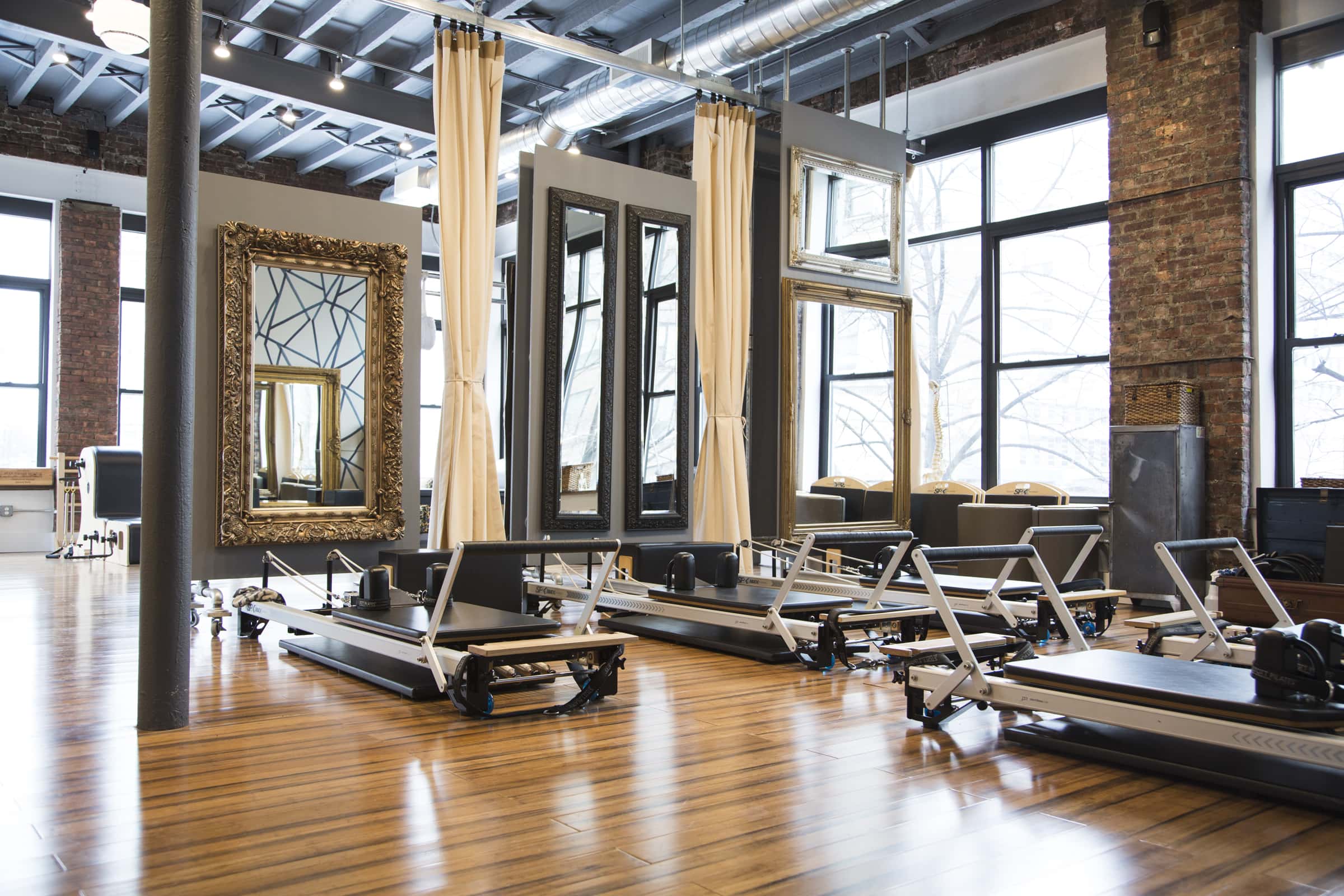 Meet our new Pilates Group classes
All new class offerings and an expanded schedule
Beginners Classes
Core Foundations (Mat) | Reformer Core (Reformer)

Intermediate Classes
Unwind/Rewind (Reformer/Mat) | Reformer JUMP

Advanced Classes
Get Physical (Reformer) | Get Technical (Reformer)
Pre/Post Natal
BYOB (Bring Your Own Baby)  (Mat) | BYBB (Bring Your Baby Belly) (Reformer)

We are excited to introduce to our family an entire new offering of group classes here at Physio Logic Pilates & Movement in Brooklyn.
We designed our new group classes using  levels with progressions, with awareness that leveling Beginner/Intermediate/Advanced is not simply defined by your technical execution of the repertoire. We want you to use the class descriptions below as a tool to self evaluate which classes would be appropriate for your body on daily/weekly basis. 
We are now offering 2 different classes in each level: Beginner, Intermediate and Advanced, as well as all new open-level classes for expecting and new parents: BYBB (Bring Your Baby Bump) and BYOB (Bring Your Own Baby).
As always, our group classes are limited to 5 students in a class, to maintain integrity and offer plenty of personal attention to each student.
Our schedule is also getting expanded, with more classes throughout the week. Click here to see our new schedule and sign up online
Below is our new classes descriptions. We hope you enjoy taking the new classes as much as we enjoyed designing them for you. If you still have any questions or not sure which class would be the right fit for you, please don't hesitate to ask.
See you in class!
Beginner Classes
Core Foundations
(Mat)
Everyone's welcome, whether you're a Pilates first-timer, recovering from an injury, or looking to review the basic principles and fine-tune your practice. Become a Pilates master — or simply a master of you — by identifying your true core (hint: it's not just your abs). You'll love the results: better posture and awareness of breath, increased strength, flexibility and endurance, even enhanced mental awareness. Note: This is the perfect forum to ask questions and discover all the little details that make Pilates such a popular and effective fitness regimen.
Reformer Core
(Reformer)
There's a reason the reformer's been around for more than 100 years: because it kicks some serious butt — arms, abs and legs too! This genius apparatus uses a sliding carriage, springs, straps and more to work all the muscle groups and spine through flexion, extension, side bending and rotation, all while supporting each student's individual strength level and range of motion. In this class, you'll review Pilates basics while progressing to set routines, variations and modifications, a necessary base for faster paced classes. Give us 55 minutes, and you'll leave the studio on a Pilates high, feeling taller, stronger, more confident and super energized!
Intermediate Classes
Unwind/
Rewind
(Reformer / Mat)
Because we're all a little twisted! Come unwind your body and mind while taking your core Pilates foundations to the next level and building stamina in this moderately-paced intermediate class. Your physical alignment takes a daily beating, spending too much time in one position or repeating the same movements; this class will straighten out the tangled spine as you work out on your back, front and side, rewinding your arms, abs, butt, thighs, calves — and even your toes — with your new-found strength.
Reformer JUMP
(Reformer)
Get set to sweat! This moderately-paced class mixes low-impact jump intervals with classic reformer routines, engaging both the body and mind as the heart rate races. It's also ridiculously fun! Because of the reformer's gravity-defying spring tension, jump-boarding feels like you're bouncing on a trampoline on the moon…while on your back. Yep, this is one exercise class you'll mostly take lying down! But don't take that the wrong way: You'll torch tons of calories during this legs-and-ab-a-licious workout!
Advanced Classes
Get Technical
(Reformer)
So you've got the Pilates principles down pat, and a decent knowledge of reformer repertoire — now what? It's time to graduate to an advanced technical level and faster pace, with the goals of building strength and pushing the limits of your range of motion. Applying all of the Pilates principles to advanced repertoire, we'll help you to transition with grace — or at least, tell you to. (Remember, benefits lie in the process!) Please come experienced in Pilates and with an understanding of your necessary modifications.
Get Physical
(Reformer)
Kick it up a notch in this challenging, faster-paced workout.  This class blends the intermediate repertoire with athletic training.  Come prepared to sweat, as you apply Pilates principles to traditional exercises, building strength, core-and everything else!  Let's:)
Pre/Post Natal Classes
Pre Natal: BYBB (Bring Your Baby Bump)
 (Mat/Reformer)
Move your body safely in a class designed specifically for mommas in the making. Maintain and strengthen your pelvic floor, TVA, hamstrings, glutes, and arms  to prepare your body for labor and beyond. This class is appropriate for all trimesters.
Post Natal: BYOB (Bring Your Own Baby)
 (Mat)
Bring your own baby! This class is great for postpartum moms but dads can jump on in too. Strap your baby into their carrier and get moving again. We will address new mom's bodies by working on getting those abdominal and pelvic floor muscles back, strengthening the back and stretching out tight areas.