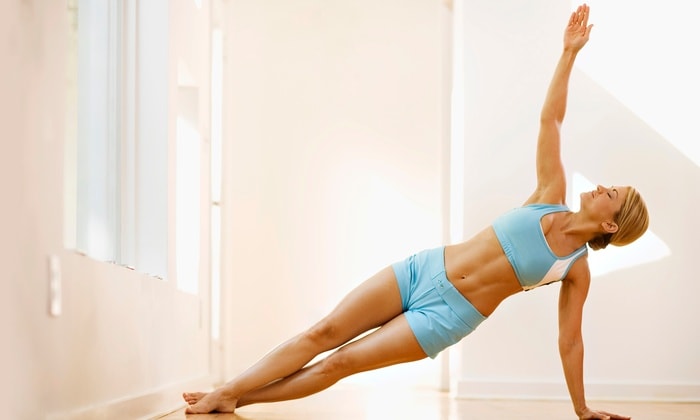 Pilates Instructor, Rotem Bar explains how Pilates may serve as the launching point to a world of other athletic interests. We encourage all our clients and patients at Physio Logic to get their body moving. "Pilates helps you connect to your body, and remind you that your body is more than just a vessel to carry you between subway stations, desks and restaurant tables. We should be able to enjoy moving our bodies solely for the purpose of moving."
We're halfway into fall, summer indulgence behind us, New Year's resolutions looming nearby. Work is back to full force, and we're just trying to keep up, struggling to figure out how to add that gym routine, or take advantage of this weather and exercise outside. Pilates can be your jumpboard – connecting you back to your body and moving.
Pilates is a system of exercises that utilizes specialized apparatus ("machines") with one main goal: to get you moving. A full body workout in a one-hour session, you use all the muscle groups of your body and move in all directions: flexion, extension, rotation and lateral flexion (side-bending). Focusing on core work, you gain strength, improve stability and flexibility. But these are the direct and more obvious benefits of this work. What's typically left untold, is how Pilates helps you connect to your body, and remember it's more than just a vessel to carry you between subway stations, desks and restaurant tables, and that it actually is enjoyable to move, solely for the purpose of moving.
For someone who grew up fairly mortified of any activity that fell under the category of "sports", discovering a way to connect to my body through physical activity was earth-shaking. I did the whole gym routines, but not for the enjoyment of it, rather because it's what one must do… But it was only when I became a Pilates student that I was able to make that visceral connection to my body. No more endless, boring reps of mindlessly moving my limbs following animated drawings, in Pilates I learned from my teachers how to correctly and mindfully move and control my body, what to do – and avoid doing, feel – and avoid feeling, while moving. And that, sparked the desire to be more active. I discovered through a fellow teacher aerial arts, and surprised myself when I flipped over the trapeze bar for the first time, pretty much on the first try. How? Well, it's pretty much the Pilates pike exercise, with some extra arm strength. Pilates got me ready for every aerial exercise.
I love moving my body now. I'm still not an exercise fanatic – I don't hit the gym 6 times a week or train for the marathon. I do love my 30-minute swims, occasional yoga classes, Pilates workouts and playing around on the trapeze, and I can say without a doubt that learning Pilates was what made me appreciate and feel capable and motivated to engage in moving, for the sake of moving.
I always recommend my students to do another physical activity together with Pilates. Just like when I flipped over the trapeze bar the first time, that's how you actually get to see the results of your Pilates work. We're giving you the tools, but the goal is for you to go out with these and apply them at whatever activity you are doing: sitting at the office, swinging the tennis racket or standing on a crowded subway car trying to balance… So if you can't find in you the motivation or desire to be more active – try Pilates. You'll discover a new way to be aware of your body, and with that the desire, confidence and motivation to do more with it.
Physio Logic Pilates & Movement is offering a special intro rate for new students: 2 private sessions for $125, or a small group class package (10 classes) for $260.
Email us at pilates@physiologicnyc.com
or call 718.852.8349 to book your session
CATEGORIES : Health Physical Therapy Pilates Pilates Cornerstone