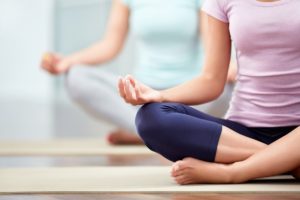 1) Mindfulness Based Stress Reduction (MBSR) – Developed by Jon Kabat-Zinn, MBSR was designed to assist people with pain and a range of conditions and life issues that are difficult to treat in a hospital setting. The basis of MBSR is mindfulness, which is defined as "moment-to-moment, non-judgmental awareness."
2) Transcendental Meditation (TM) – This technique involves the use of a sound or mantra to help center your attention. TM is one of the most widely practiced and researched forms of meditation.
3) Loving Kindness Meditation is when you pick certain mantras to recite about sending loving kindness to yourself and others. An example would be: "May I be safe/ May I be happy/ May I be healthy/ May I live with ease"
4) Guided Imagery – Utilizes mental imagery to help with anything from healing your body to solving problems or reducing stress. Examples of serene visualization scripts include descriptions of a beach or river scene.