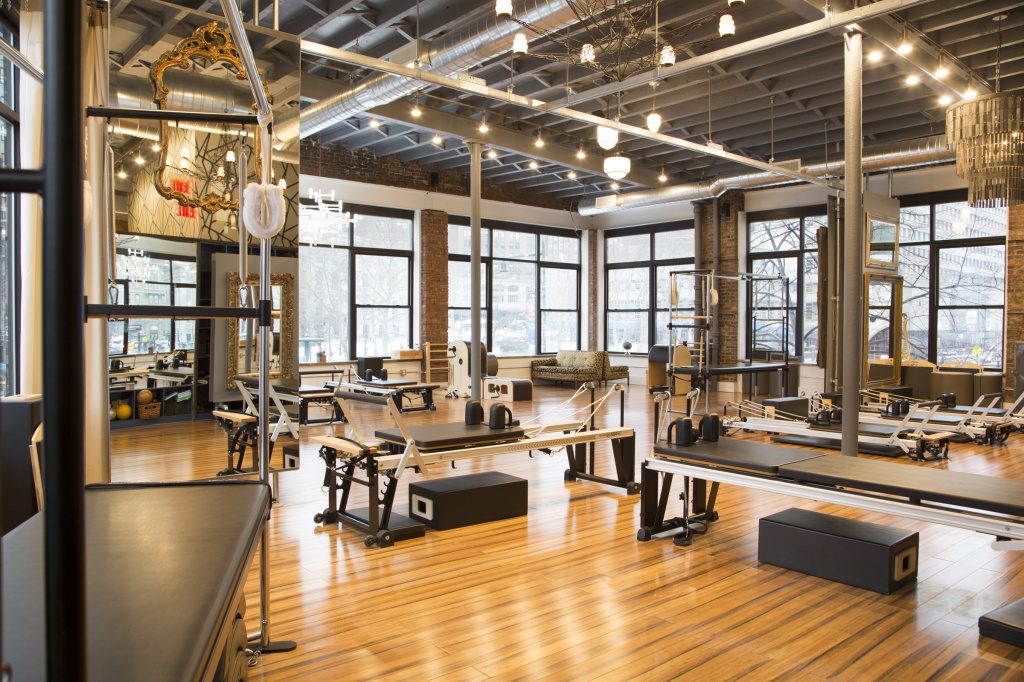 Reformer
The reformer provides finely tuned exercise resistance that allows one to work very precisely to develop good alignment, core strength, and flexibility. Invented by Pilates founder Joseph Pilates, the reformer is a bed-like frame with a flat platform on it, called the carriage, which rolls back and forth on wheels within the frame.
The carriage is attached to one end of the reformer by a set of springs. The springs provide choices of differing levels of resistance as the carriage is pushed or pulled along the frame. One of the best things about the reformer is its versatility. Body weight and resistance of the springs are what make the carriage more or less difficult to move. Reformers parts are adjustable for differing body sizes and for differing levels of skill. Exercises are done on the reformer to promote length, strength, flexibility, and balance.
Cadillac
Pilates lore has it that Joseph Pilates created the prototype Cadillac to enable bed ridden patients to exercise. His design was simple – a hospital bed with mattress springs attached to the wall. With the Cadillac, we can isolate almost every muscle group on the machine – it is an excellent tool for breaking down motion into small pieces to restore correct motion patterns and joint stability. For example, using the leg springs is one of the best ways to get runners to fully use their hamstrings.
The Pilates Cadillac is an extremely versatile piece of Pilates Equipment and, like all other pieces of Pilates equipment, can be used to progress and regress movement in order to address the functional needs of the of the advanced, as well as the beginner, Pilates enthusiast.
Stability Chair
The Stability Chair is perfect to accommodate a diverse range of clients, including those who are limited to exercising in a vertical position. This may include older adults, prenatal women, individuals with blood pressure issues, vertigo, eye conditions, balance concerns, overweight clients or anyone else who cannot maintain a supine position. Many exercises are done sitting, standing or kneeling, which promotes more functional postures and improves everyday movements. Exercises performed on the "Chair" can improve balance, increase strength and range of motion, promote ease of movement and more universal stability.